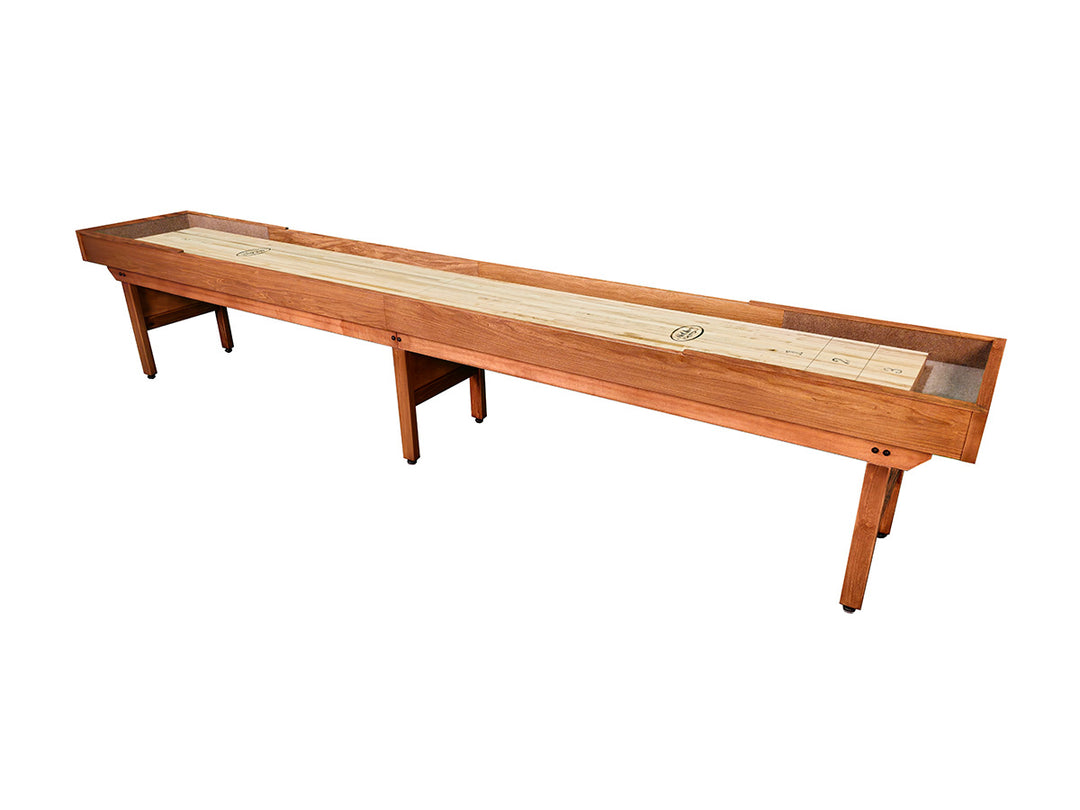 Handcrafted in Michigan
We stand by the quality of our craft. All of our tables come with a warranty.
---
14 Foot Liberty Shuffleboard Table Tulipwood Heirloom Finish
Our Liberty shuffleboard table is a great entry-level option that complements the decor of most homes and game rooms. This model is comprised of a playboard made from 100% Hard Maple Wood and a cabinet handcrafted from American Tulipwood with an heirloom finish. The result is a simple, yet high-quality shuffleboard table that will provide your family and friends with countless hours of entertainment. 
Every Liberty shuffleboard table that leaves our Grand Rapids, MI facility is handcrafted and by one of our master craftsmen. Using the finest locally harvested Tulipwood, our team of woodworking experts take between 6-8 hours to craft the cabinet and legs for each Liberty table. While other companies may be content to cut material costs and production time, and lower the overall quality of their product, we're not. At McClure Tables, we pride ourselves on handcrafting one-of-a-kind shuffleboard tables that can stand up to years of wear and tear.
While most of the shuffleboard tables available in this price range come with a 16" wide and 1.5" thick playing surface, the Liberty features an 18" wide and 2" thick playing surface that is handcrafted with premium hard maple and sealed with a specially formulated finish that has a lifetime warranty. Regulation sized playing surfaces are 20" wide and 3" thick, but require additional crating that results in higher shipping costs. Because of the Liberty's unique 18" wide and 2" thick playing surface, we can reduce the shipping costs while still providing a playing experience similar to the regulation boards.
Another unique advantage of this model is that the cabinet is 25.5" -26"  wide, allowing the Liberty shuffleboard table to fit into tighter spaces than some of our large models. Every Liberty table comes with 8 pucks and 1 can of shuffleboard wax. We also have several optional features you may purchase during the
check out
process, including score beads, board sweep and extra wax.
This Liberty 14 foot is in a beautiful Chestnut finish on hard maple cabinet and legs. The liberty Shuffleboard in stock for immediate shipment.