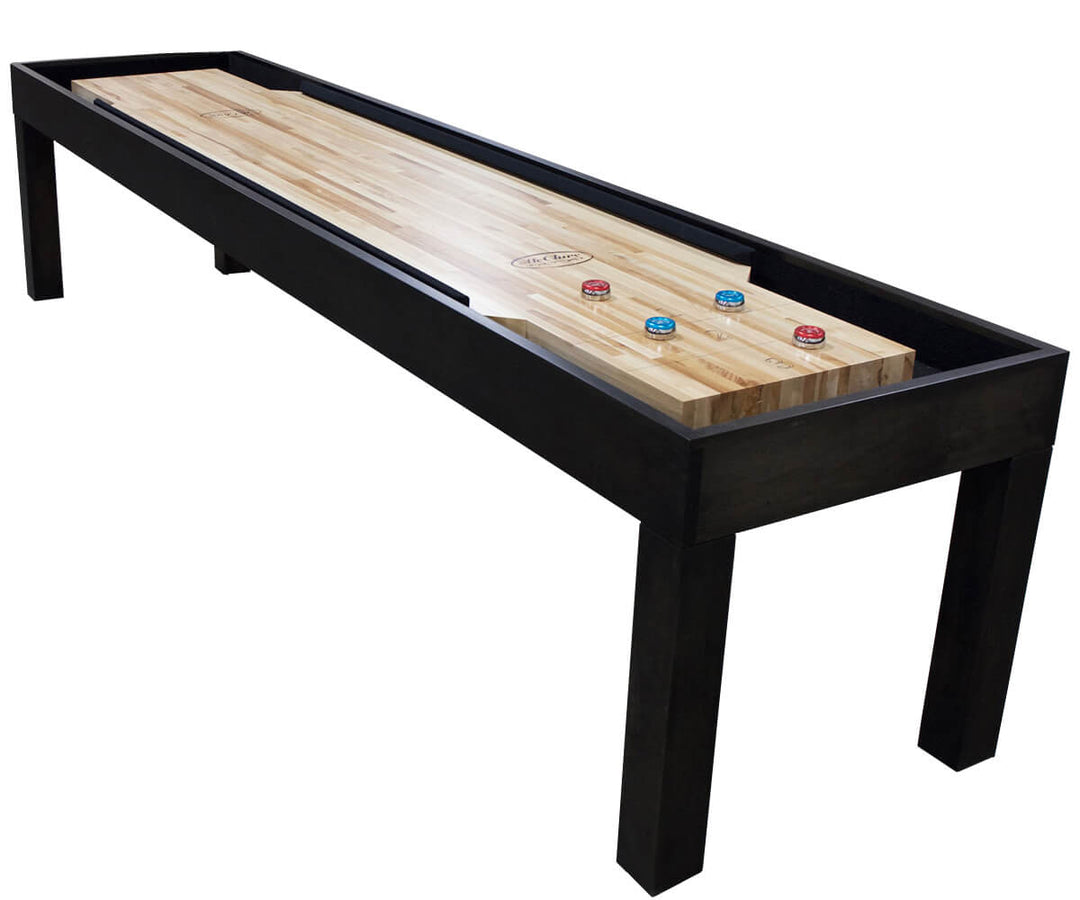 Handcrafted in Michigan
We stand by the quality of our craft. All of our tables come with a warranty.
9 Foot Parson Maple Bumper Shuffleboard Table
Our Parson maple shuffleboard table offers the perfect blend of the clean profiles and warm tones of contemporary style. The result is a classic and clean look that allows the Parson maple shuffleboard to naturally match most home and game room decors. Each Parson shuffleboard table is made by hand from start to finish by one of our master craftsmen. The cabinet and legs of the Parson are crafted using the finest locally harvested North American hard maple, which is hand selected by our master craftsmen before each build to ensure the best possible grain consistency.
After selecting the wood to be used in the construction of your table, our master craftsman begins assembling your Parson shuffleboard. For the legs he glues up chunks of solid hard maple. The Parsons table adds a new twist to the Game of shuffleboard for smaller rooms we include full length bumpers and a full width board. The play-board is 24" wide in the center for the bumper area and because of the clean style and lines on this table we only offer up to the 16 foot length. If you like the design but perhaps want a larger size or same design with no bumpers? Give our team a call anything we do can be customized to your design or needs. 
Each Parson maple shuffleboard table that leaves our Grand Rapids, MI facility is custom made and built to order. Our master craftsman meticulously goes over every detail of your new shuffleboard table to ensure its quality, beauty, strength, and stability. The Parson shuffleboard table is available in a variety of finishes, including Chestnut, Cinnamon, Heirloom, Mocha, Deer Creak, and Black Rubbed. We can also custom finish your new  Parson shuffleboard table to complement the specific decor of your home or game room. You may also request that the cabinet be built with your choice of walnut, cherry, hickory, or oak wood; however, these optional substitutions may result in additional charges.
Every Parson maple shuffleboard table features a 20" wide and 3" thick playing surface that is made from the premium hard maple. The playing surface is sealed with a specially formulated finish that has a lifetime warranty. Each table comes with 8 shuffleboard pucks and 1 can of wax. There are also several additional features you may purchase for your Sloan maple shuffleboard during the checkout process, including a custom logo for your playing surface, an electronic matching wood score unit, and a wooden bowling pin set.