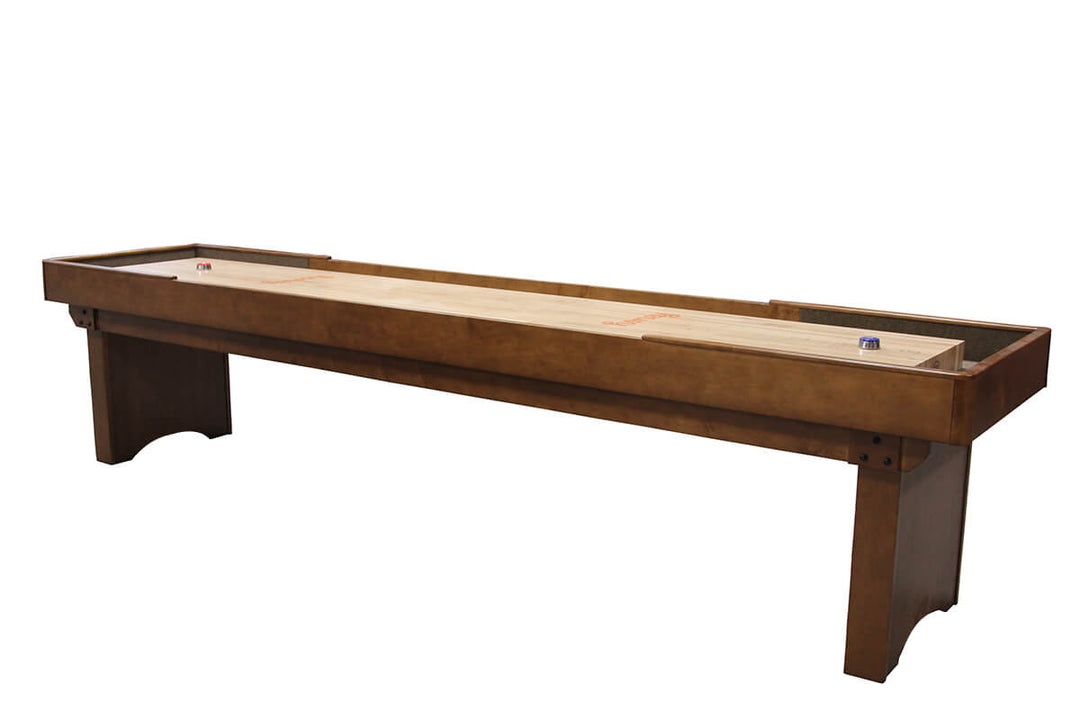 12 Foot Tournament Chestnut Shuffleboard Table
This table was originally made for a customer with a custom play board, they realized before we shipped that they needed a 2 piece cabinet so now we have an extra! Please note: play board shown is different than what you will receive. You will receive a traditional McClure Tables play board with our logo on either ends of play board.

Whether you're looking to purchase a shuffleboard table for your home, arcade, business, or restaurant, our Tournament series tables are both stylish and cost effective. Each Tournament shuffleboard table is made from the finest locally harvested North American maple and custom built by one of our master craftsman. 
Every Tournament shuffleboard table features legs constructed from solid hard maple while the table skirt is made from premium grade maple plywood. The sleek design of the Tournament legs add to the overall aesthetic, strength, and stability of the table. Each Tournament shuffleboard is also equipped with a 20" wide, 3" thick solid maple playing surface that is sealed with a specially formulated finish that has a lifetime warranty. This premium playing surface ensures that your new Tournament shuffleboard table will last for years and provide you and your family with countless hours of enjoyment.

The Tournament 12 foot is in a beautiful Chestnut finish, in stock and ready to ship!