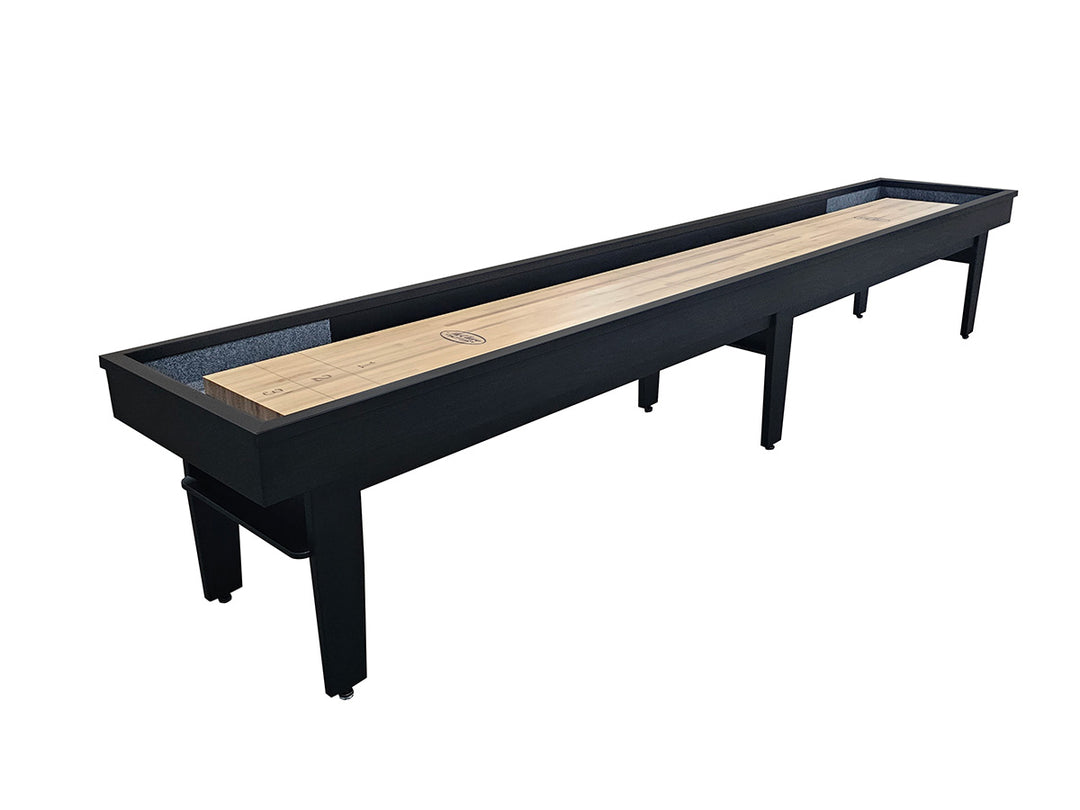 Handcrafted in Michigan
We stand by the quality of our craft. All of our tables come with a warranty.
---
16 Foot Patriot Shuffleboard Table Black
Our 16 foot Patriot shuffleboard table is a great transitional design that complements the décor of most homes, game rooms, and businesses. The Patriot table is comprised of a playboard made from 100% Hard Maple Wood and a cabinet handcrafted using American Tulipwood with a Black finish.
Every Patriot shuffleboard features a thick top cap that accents the cabinet and adds a bold element to the table's contemporary design. Another unique feature of our Patriot model is the classic style legs. The legs of the Patriot are handcrafted by one of our master craftsmen and include a hidden shelf that is perfect for storing your shuffleboard wax, pucks, and other table accessories.
To ensure the quality and beauty of your new shuffleboard table, the same master craftsman builds your Patriot shuffleboard from start to finish. Between selecting the best wood for grain consistency, handcrafting the cabinet and legs of the table, and pre assembling the completed table prior to shipping, our master craftsmen will meticulously go over every detail of shuffleboard.
Each Patriot shuffleboard features a 20" wide and 3" thick playing surface that is made from the high-quality North American hard maple. The playing surface is sealed with a specially formulated finish that has a lifetime warranty. Every Patriot comes with 8 shuffleboard pucks and 1 can of wax. There are also several additional features you may purchase for your Patriot shuffleboard table during the checkout process, including score beads, board sweeps, and table covers for your 16 foot shuffleboard