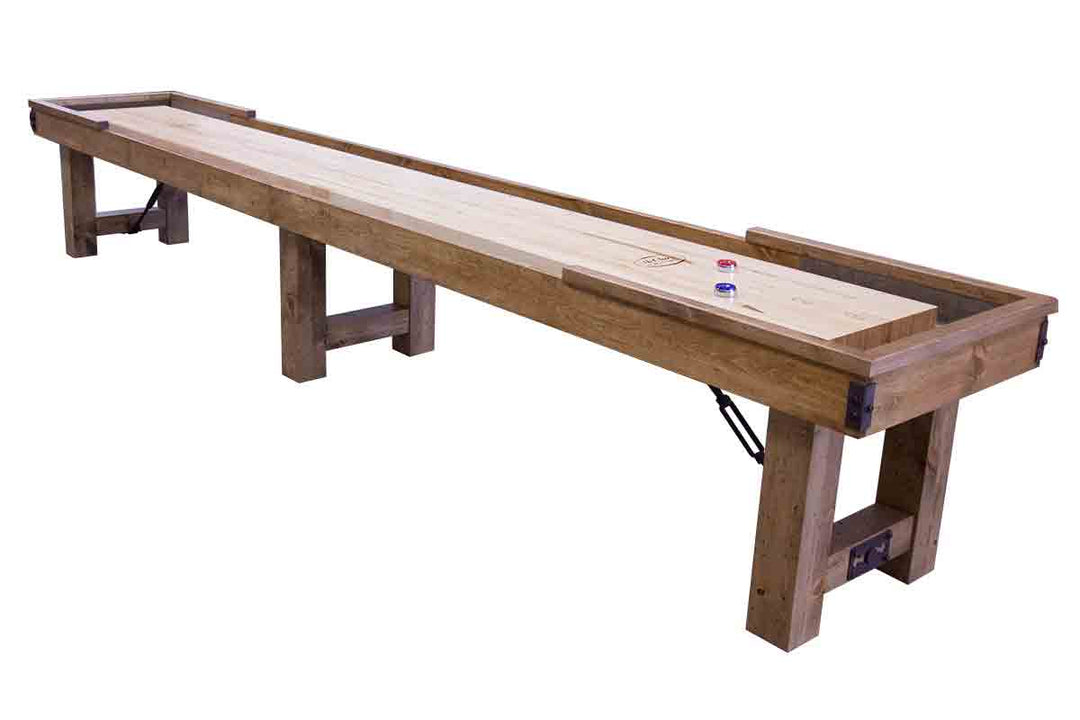 Handcrafted in Michigan
We stand by the quality of our craft. All of our tables come with a warranty.
---
14 Foot Vicksburg Shuffleboard Table In Heirloom Finish 
Are you looking to add some rustic charm to your game room, man cave, or lodge? Then our Vicksburg shuffleboard table is just what you're searching for. Each one of our Vicksburg shuffleboard tables is handcrafted and built to order at our Grand Rapids, MI facility. At the start of every build, one of our master craftsmen hand selects the wood that will be used to construct your table. From start to finish, this same master craftsman will personally handcraft every element of your new Vicksburg shuffleboard table.
Every Vicksburg shuffleboard table is custom made to fit your order. The cabinet is handcrafted using Rustic Eastern Knotty Pine. During the cabinet construction, our master craftsman will distress or antique the wood in order to enhance the overall rustic and rugged aesthetic of the finished product. The legs of the Vicksburg table are lodge style and made using solid wood for exceptional strength, beauty, and style. The accent pieces and turnbuckles are powder coated bronze metal.
This Vicksburg shuffleboard table is available in a  Heirloom on Pine
Each Vicksburg a also features a 20" wide and 3" thick playing surface that is made from the high-quality North American hard maple. The playing surface is sealed with a specially formulated finish that has a lifetime warranty. Every Vicksburg table comes with 8 shuffleboard pucks and 1 can of wax. There are also several additional features you may purchase for your Vicksburg shuffleboard table during the checkout process.